Interwoven Online Exhibit
Marking the 100th anniversary of the women's suffrage moment, enjoy this virtual exhibit that will focus on the connection between fashion and women's freedoms.
Interwoven: Women's Fashion and Empowerment focuses on the history of women's rights, including social, economic, legal and voting, while relating milestones and benchmarks with fashion trends by decade.
The Bangor Historical Society is in possession of more than 1000 garments collected by an
organization that would exhibit or wear the garments at local events in Bangor. The collection,
known as "The Quipus Collection", contains garments from the 1860s through the 1970s. This
collection serves as the basis for the original concept for the Interwoven exhibit, which was to be held in Downtown Bangor, but due to COVID-19 had to become a virtual display.
We would like to thank our exhibit sponsor Bangor Savings Bank for helping to preserve Bangor's history, especially during this time.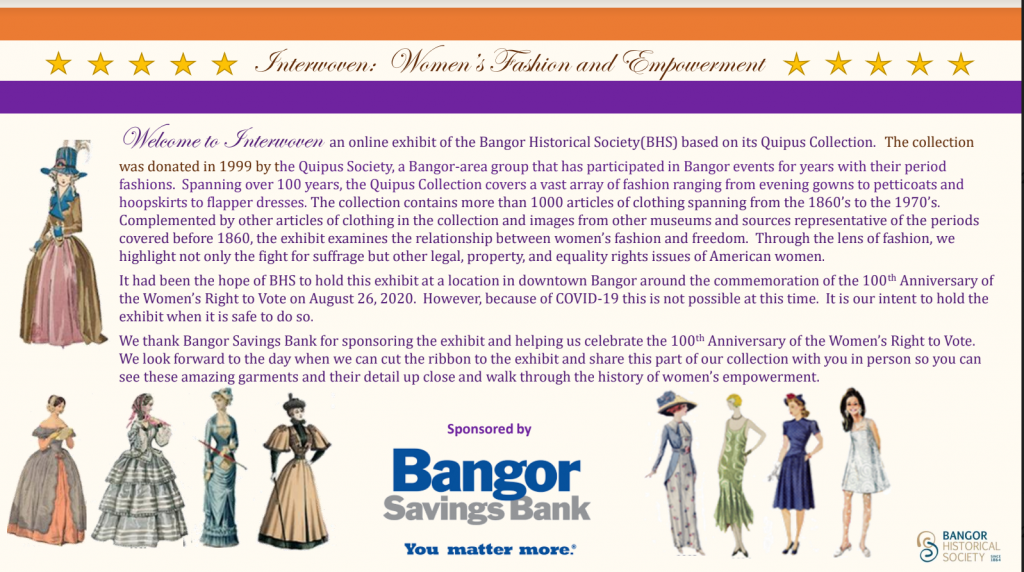 Want to learn more?
Check out our Facebook Live Discussion on September 17th at 4pm!