Devil's Half Acre Walking Tour
Recurring event
see all
June 12, 2022 at 6:00 pm – 7:30 pm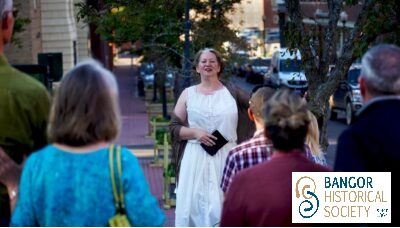 During the lumber boom of the 1800s, Bangor, Maine was known for its wealth, refinement, and industry –and a good deal of vice and violence. Join the city's notorious Madam Fan Jones, proprietress of the Sky Blue House of Pleasure, on a walking tour of the "lumber capital of the world." This tour shines a light on the darker side of the city's history by sharing the stories of the infamous "Devil's Half Acre" and the working-class people who lived and worked in the bustling lumber port.
This tour meets and concludes at 2 Feet Brewing on Columbia Street.
Tickets are $12.
Tours are capped at 25 guests per tour.
For ticket reservations please email curator@bangorhistoricalsociety.org