*SOLD OUT*Mount Hope Cemetery Cinema
August 25, 2022 at 8:00 pm – 11:00 pm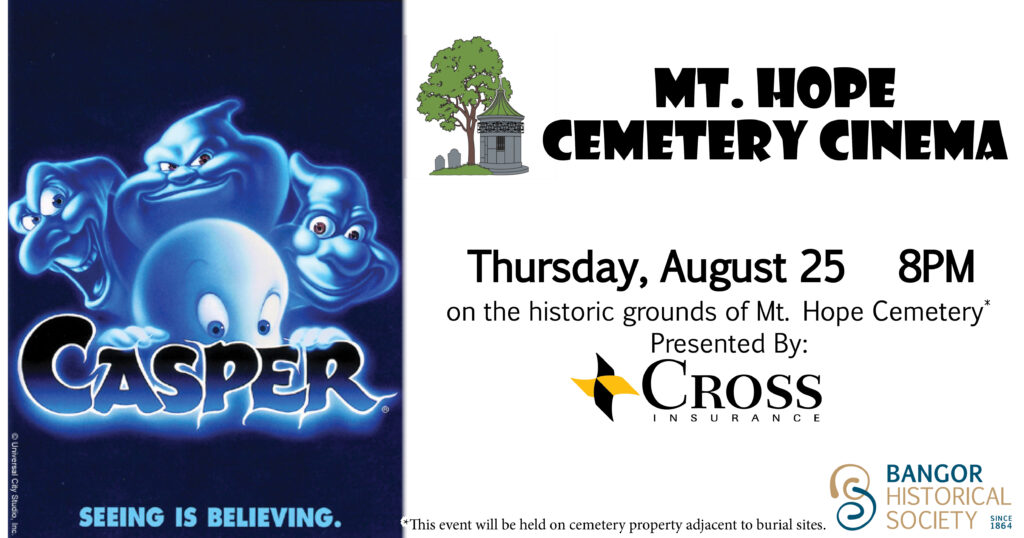 The Bangor Historical Society, in partnership with Mt. Hope Cemetery Corporation and Presenting Sponsor Cross Insurance, is excited to announce the first Mt. Hope Cemetery Cinema event scheduled for 8pm on Thursday, August 25th. The 1995 film "Casper" will be shown on the ground of the historic Mt. Hope Cemetery. Thanks to Cross Insurance admittance is free, however donations to benefit the BHS will be accepted.
"In collaboration with the Bangor Historical Society, we at Mt. Hope Cemetery, are pleased to be hosting the first Mt. Hope Cemetery Cinema event," representatives for the Mt. Hope Cemetery Corporation said. "In an effort to maintain respect for the sites and the surrounding area, we have chosen a wide-open space owned by the Cemetery, adjacent to burial sites. We expect our guests to respect the grounds as well."
"Mt. Hope Cemetery has been a gathering place for the community since inception. In addition to walking tours, bird watching groups and general leisure, it is our hope that the Mt. Hope Cemetery Cinema event will be another great opportunity for the community to gather together," they added.
This event is possible thanks to the generous support of the following local businesses:
Presenting Sponsor: Cross Insurance
Venue Sponsor: Mt. Hope Cemetery Corporation
Parking Sponsor: United Technologies Center
Shuttle transportation provided by Cyr Bus
IMPORTANT EVENT INFORMATION
Smoking, pets, and alcohol are not allowed in Mt. Hope Cemetery.
There will be popcorn and water available for purchase.
Chairs and blankets are welcome. Seating will not be provided.
HOW TO GET TICKETS
Even though there is no cost for the event, tickets are limited, and advance RSVP is required.
You can reserve your space by emailing your name and the number in your party to:
curator@bangorhistoricalsociety.org
PARKING INFORMATION
There will be NO PARKING in the cemetery for this event. Guests should park at United
Technologies Center, 200 Hogan Road. There will be signs directing you to the lot when you
arrive at UTC. Parking opens at 7:15PM. Beginning at 7:30PM free shuttle bus service to and
from Mt. Hope Cemetery will be provided.